Playing a round in the pure mountain air is an experience that many golfers have not had. Imagine standing on the tee surrounded by snow-capped peaks and glittering blue lakes. It's a unique style of golf that you need to experience. Here are some of the best mountain golf courses to try.
Golf Club Crans-sur-Sierre – Switzerland
"What a course!!! Splendid views!…A must if you are in the Sion region!!!" – Richard Thibo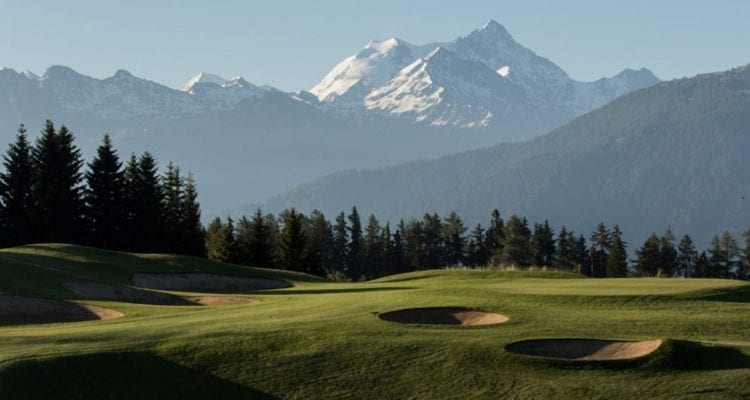 One of the European Tour's most iconic annual venues, Crans-sur-Sierre is an astounding course. Each year the Omega European Masters stops at Crans and attracts one of the calendar's strongest fields. This course will put your accuracy and shot-making to the test.
With two courses here to enjoy, The Seve Ballesteros and The Jack Nicklaus, you are in for a real treat. Follow in the footsteps of some of the world's best golfers one of the world's most beautiful courses.
Andermatt Swiss Alps Golf Course – Switzerland
 
This par-72 course is nestled in the Ursern Valley which frames the course perfectly. Andermatt is a golf course that constantly evolves as you play it. The terrain is rich and varied which so creative shot-making is required throughout your round.
One of the highlights of this course is its rich wildlife. The course has twelve holes perched on a high plateau and six that meander through a valley. Andermatt Swiss Alps Golf Course is everything you would hope from alpine golf and more.
Engadine Golf Club – Switzerland
Samedan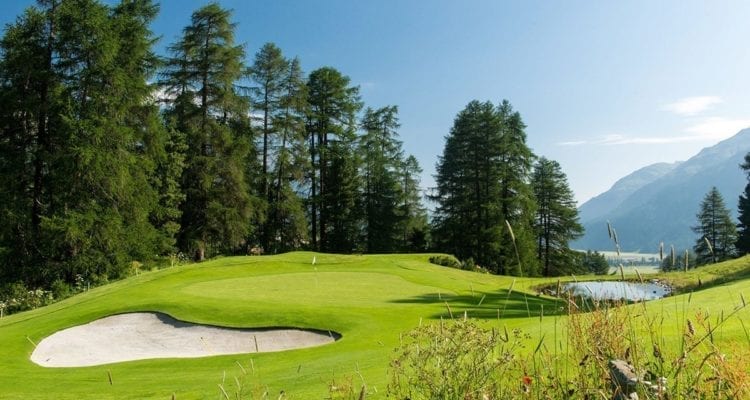 Engadine – Samedan is the oldest club in Switzerland and, as you'd imagine, it is packed with a rich history. Sitting in St Moritz, the views of the Engadine mountains that this course offers are hard to beat. If you want a traditional golfing experience with the most amazing backdrop then this could be the perfect golf course for you. 
Zuoz Madulain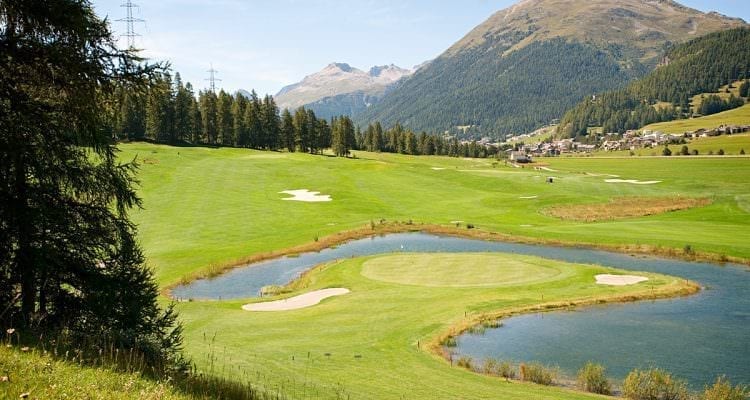 This course is described as the grandchild of Engadine – Samedan as it was opened in 2003. Zuoz Madulain has many of the same charming features as its older counterpart but plays like a modern course. The two courses provide a wonderful contrast to one another. You just need to decie whether you want to play the old or the new course first.
Golf Du Mont D'Arbois – France
"This course is charming, easy to score, easy to walk with panoramic views. Welcoming staff and nice Club house with a big terrace." – Matthieu Azzolin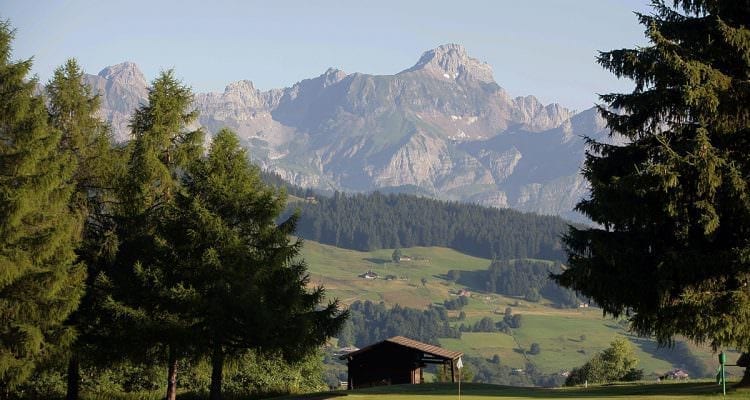 Golf du Mont D'Arbois is a paradoxical course, it's in the mountains and has a strong alpine feel to it, yet it plays like a lowland course. The course has gentle and rolling slopes and only has an elevation change of 150m. The course was designed by Henry Cotton and, as a result, has a classic feel to it.
Golf du Mont D'Arbois has another trick up its sleeve for you. Every year there is the Winter Golf Cup so you can put on your thermals and come play in the snow. It is a truly exceptional competition that is open to amateurs and professionals. This is an event that should be added to your golfing to do list.
Golf Club Gstaad-Saanenland – Switzerland
"You must try the excellent clubhouse restaurant with a menu prepared by the chef Robert Speth from the Chesery in Gstaad." – Roger Oltramare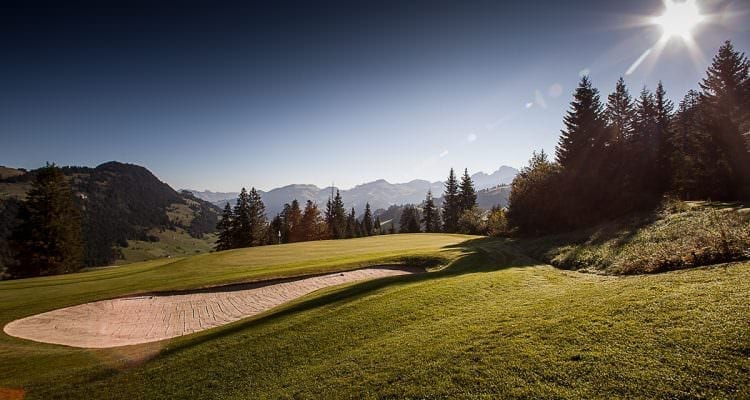 At 1400m above sea level, this is a course with a bit of magic about it. Built close to a nature reserve, Golf Club Gstaad-Saanenland is one of the finest courses in the Alps. Playing a round here is the perfect escape from modern life, the course has an almost sanctuary-like feel to it.
This feeling is strongest in the cosy and informal clubhouse. There is a homely feel about the club and even visitors are made to feel very welcomed. The large sun terrace is a place where golfers could get very comfortable talking over their rounds and enjoying a glass of wine whilst the sun goes down.
Golf Club Davos – Switzerland
"Courses of this quality are hard to find so high above sea level. It is definitely fun to play." – Gregor Greinert
Golf has been played in Davos since 1893 and this course was designed by Peter Harradine, as a 9-holer in 1927. It was expanded to a full 18-hole course in 1966 and was redesigned by Kurt Rossknecht in 2010. At 1560m, the course is built on surprisingly flat terrain. The course is decorated with natural water hazards that add to the charm of the place.
Davos is more known for meetings than it is for the great sport we love. However, if you are there for business during the summer months you should pack the clubs. This is fun golf experience and will give you a refreshing break from your professional duties.
Golf Club de Chamonix – France
"The course also offers a breathtaking scenery as you are playing right below the Mont Blanc, the highest peak in Europe." – Xavi Blanche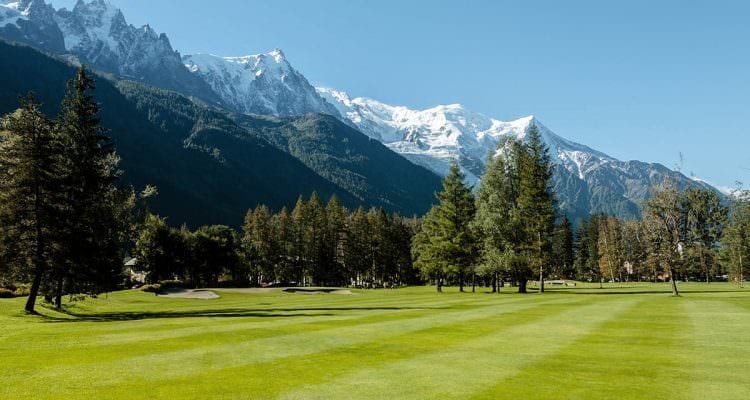 If you want a golf course that is as great to look at as it is to play, then look no further than Golf Club de Chamonix. Robert Trent Jones Sr created this technical masterpiece and fully utilised the incredible to its greatest potential. The course will provide you with a subtle challenge through Jones' use of strategic bunkering and water hazards.
Golf Club de Chamonix is kept in pristine condition. The green keeping staff here take great pride in the work that they do and the attention to detail in the upkeep of this course is unsurpassed. This is pure golfing joy.
Golf and Landclub Achensee – Austria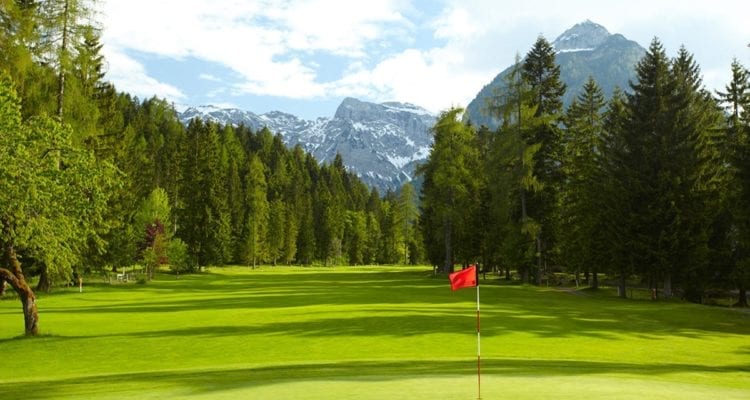 At over 1000m above sea level, this is one of the most visually spectacular golf courses in Austria. The crystal-clear Lake Achensee, the towering grand trees and the mountain views make playing this course an incredible experience.
Like many of the courses mentioned already, Achensee is a relatively flat and gentle course so you can really enjoy your golf without a physical challenge. The wooden shacks dotted around the course also add to the character of the place. A round here will live long into the memory, it's a special place.
Golfclub Zillertal Uderns – Austria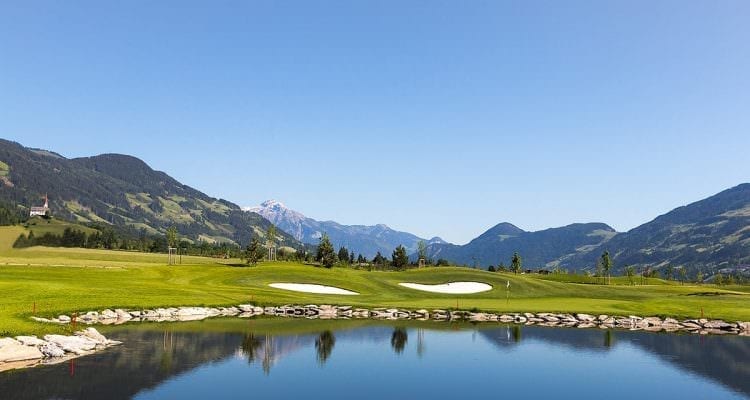 This par-71 championship course is a real treat from start to finish. The perfectly green lush course meanders between bright blue lakes that frame the holes perfectly. These lakes and some strategic bunkering, create a course that will challenge golfers of all levels.
Zillertal Uderns also has a host of practice facilities including a fully covered driving range and a PGA golf academy. The four-star hotel on site means it would only be fair to stay a few nights and play the course a few times.
Dolomitengolf Osttirol Golf Club – Austria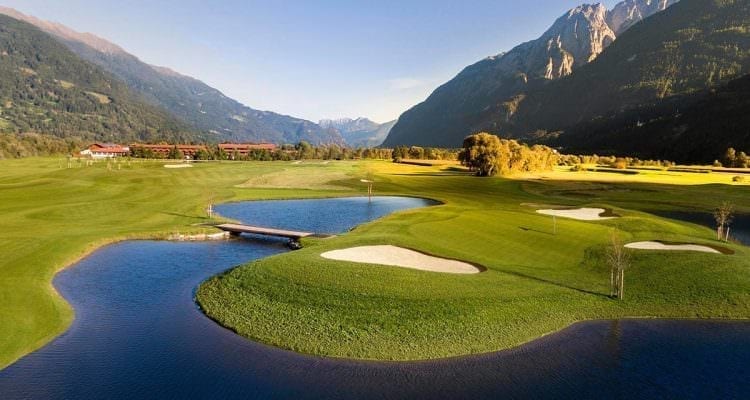 There are two 18-hole championships courses at Dolomitengolf Osttirol. The undulating and sloping greens are among the highlights of the golf on offer at these picturesque courses. The complex is made up of four separate nine-hole loops meaning that you need to play here many times to play every course on offer.
When you've finished your golf for the day you should take full advantage of the restaurant at the club. The food on offer brings in diners from all around, not just golfers. This is the perfect way to end a great golfing experience.
Golfclub Adamstal Franz Wittmann – Austria
"Without any doubt, one of the best and most scenic courses that I've ever played. From the first hole on you feel like entering a different world." – Max Biwer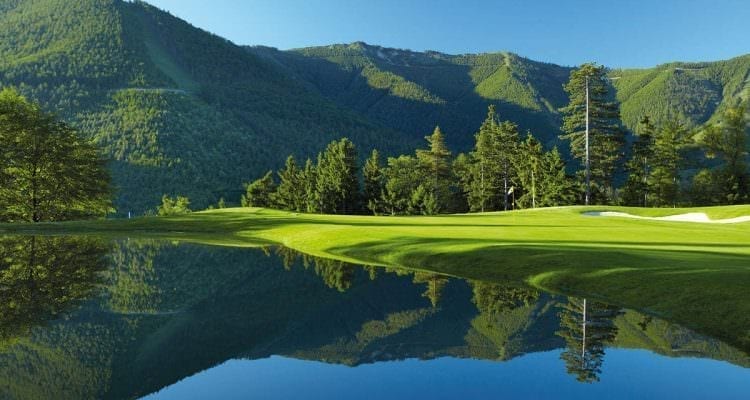 This family owned 27-hole golf course is set perfectly in the high forests of the Austrian mountains around an hour from Vienna. Adamstal Franz Wittmann has an 18-hole championship course and a shorter 9-hole course for you to enjoy. The course almost defies gravity with the way it is perched on the mountainside.
This is a technically challenging course and the hilly terrain means that the fitter among you will enjoy it most. However, given the awe-inspiring natural beauty of the setting here, you'll be more than happy to stop for a breather and take in your surroundings.
Golf Eichenheim – Austria
"The best in the Kitzbühel area." – Patricia Heinlein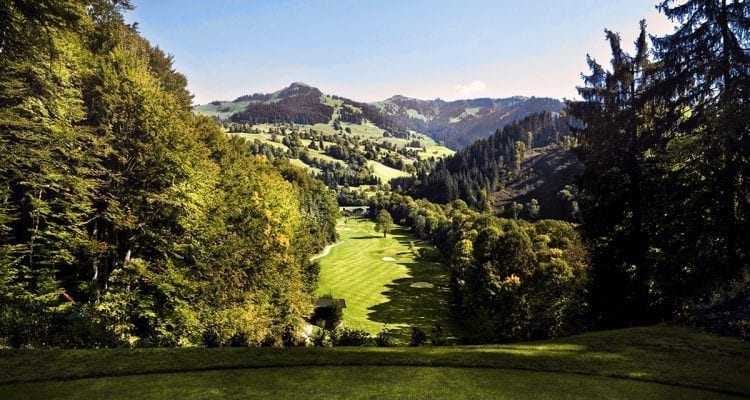 Another course that makes the most of the flora and fauna that call it home is Eichenheim. Sitting proudly in the Kitzbuhel Alps this course oozes natural beauty! The par-71 championship course is 6092 m long and it blends effortlessly into its surroundings.
This is not just a golf destination though. The cosy clubhouse bar gives you somewhere to sit and enjoy the mountain views further after your round. Another option you have is to stay here at the Grand Tirolla hotel. There is also the award winning spa on-site so you can fully relax in the most spectacular surroundings.
Seefeld-Wildmoos Golf Course – Austria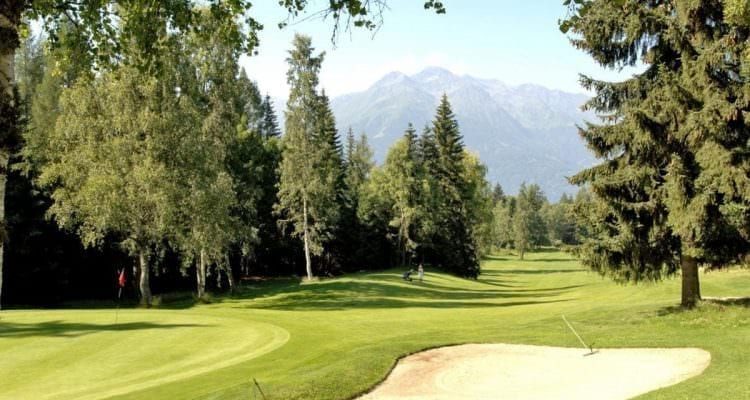 Even before this course was built, one of the main considerations in this project was the beautiful countryside that surrounds the course. Donald Harradine was responsible for the design of this naturally beautiful course. With old forests and mountain ranges part of the backdrop to Seefel-Wildmoos, it really is a visually spectacular golfing experience.
The course, in Tyrol, looks out onto the Karwendel and Wetterstein mountain ranges. The course is kept in immaculate condition and is a pure joy to play. When you've finished your round you can enjoy some Tyrolean hospitality in the alpine-style clubhouse.
GC Mieminger Plateau  – Austria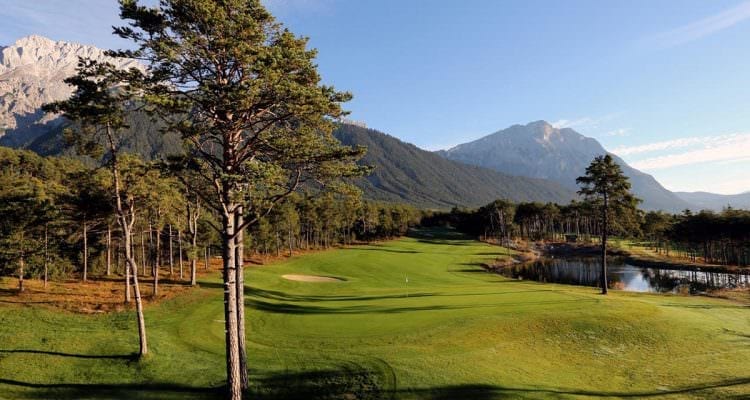 The Golfpark Mieminger Plateau boasts a prime location at the foot of the majestic Mieming mountain range at an altitude of 885 meters and offers 27 holes of golfing pleasure. The 18-hole Championship course (par 73 – 6599 meters) is among the longest courses in Austria.
With 4 different tee boxes on each hole, the course is accessible and enjoyable for players of all levels. The 9-hole Park course (par 58 – 2818 meters) is the perfect alternative for a quick round of golf. The exceptionally mild climate with an abundance of sunshine allows golfers to indulge their passion from mid-March until the end of November.
The Mountain Golf Experience
Golf courses in the mountains of Europe have a short season. These courses will, however, give you some of the best and most unique golf experiences of your life! If you're a golfer who loves to put unusual courses on your All Square world map then you need to look at the above courses. Just make sure you have plenty of space on your phone for the pictures.
Find your favourite courses: www.allsquaregolf.com and download our mobile app on the App Store and on Google Play.