Who doesn't want golf in perfect year-round conditions with a generous side-helping of glorious sea views? Aphrodite Hills in Cyprus will give you just this and more. The magnificent championship golf course on this Mediterranean island is one for you to add to the world map on your All Square profile!
A dramatic coastal golf experience
Aphrodite Hills is a course with great pedigree. It was designed by the world-famous architect Cabell Robinson and, as a result, has an American feel to it. The skill of the architect is most evident in his ability to fit 18 championship standard holes onto this unique plot of land.
You see, this course is built on two plateaus and has a ravine running between the two. To an untrained eye, you wouldn't immediately think of it as prime golf course land. However, Robinson is one of the best in the business and he has used the land to create a masterpiece.
The course covers 6,289 m from the back tees but with many sets of tees you and your group have many options. The lush tiered Bermuda greens will challenge your short game whilst the strategic bunkering will give you something to think about from the tee.
The golf academy features a generous double-ended driving range, a comprehensive short game area to hone your scoring skills and a group of PGA professionals to help guide you to better golf.  You have no excuses now!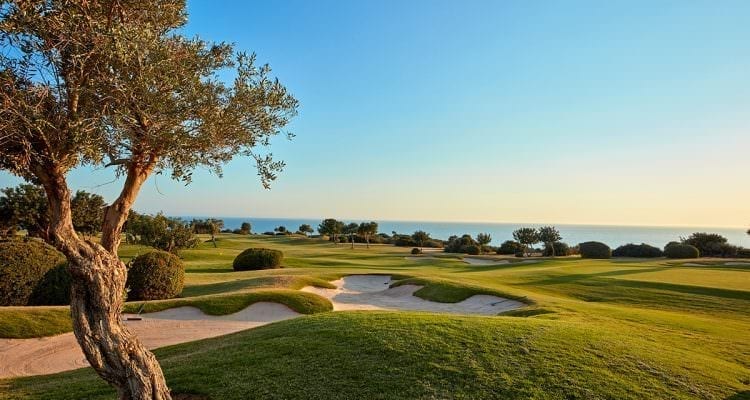 Updating a Mediterranean Masterpiece
In June 2017, the golf course began a €2.5 million renovation process. This will see an overhaul and reconstruction of the bunkers and the greens. The scale of this renovation is unprecedented at Aphrodite Hills but will result in a significant modernisation of the course.
The green keeping staff at the facility have also bought a host of brand new machinery to ensure the course is in perfect conditions long after the work is completed. 12,000 tonnes of sand have been brought in from Tunisia for this work. That should give you some idea of just how big a project this is!
The Aphrodite Hills Hotel
This luxurious hotel is proudly placed high on the hillside overlooking the birthplace of Aphrodite. Whether you want to spend time golfing, just relaxing or a bit of both, Aphrodite Hills resort has you covered.
This was the first resort hotel of its kind in Cyprus and it seamlessly blends the traditions of Cypriot culture with contemporary elegance. It is packed with options for dining including eight restaurants/bars, a fitness centre and the resort spa.
The Retreat Spa is one of the highlights of the resort. In fact, it was voted "Best Spa in Europe" in 2008 and in 2013 "Best Spa & Golf Resort". The staff here take great pride in making sure you get the most sumptuous spa experience. Experience tranquillity and relaxation at its finest in this magnificent setting.
If you're travelling with non-golfers or if you just fancy a day off the course, there are some great options for you! There's the Tennis Academy, the Soccer School and a Horse Riding School making this an all around sporting paradise!

The Experience
As you can see, Aphrodite Hills is a year-round paradise for golfers and non-golfers alike. This is a resort that brings together nature, luxury and tradition in one place and it will create retreats that are very difficult to beat. With constant upgrades and improvements, even if you've been before, you have to come back and live this experience all over again. We are quite sure that this is a destination you won't visit only once.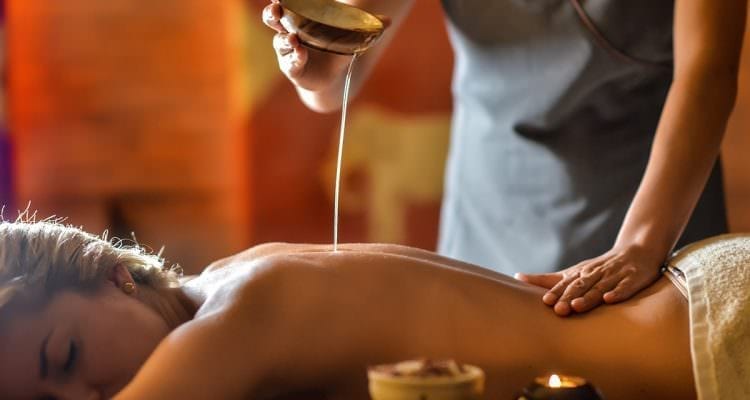 Follow Aphrodite Hills on All Square to get their latest news and offers: www.allsquaregolf.com/clubs/aphrodite-hills-golf
Find your favourite courses: www.allsquaregolf.com and download our mobile app on the App Store and on Google Play.