The PGA Show is a truly wonderful event for anyone who loves golf. For a few days the world of golf comes together in one place and all the big brands use it as a launch pad for new products.
For equipment companies Demo Day provides an opportunity to get their new releases into the hands of golfers. An estimated 1 million golf balls are hit on this one day at Orange County National near Orlando. This allows manufacturers to gain real feedback from a huge range of golfers.
The All Square team were in attendance at the show and the demo day so it is only right that we talk about something launched there. We have already covered some of the new products and here is another.
Golf Pride
The grip is the only part of the club that a golfer is in contact with during the swing. They are an integral part of your golfing performance. Be honest, how many of you out there really take time to select the grip you want on your new clubs? Do you get new grips every year?
These are important things to help maximise your performance. Golf Pride are the leading brand in golf grips and around 80% of the players on the world's top tour have them on their clubs. In recent years the company have taken a more innovative approach to their brand.
For many years, the Tour Velvet was a staple of the golf grip world. This grip is a no-nonsense golf grip but sometimes golfers want their grip to work for them a bit more. After this they released the Multi-Compound Chord (MCC) grip. This grip made for all-weather playability thanks to the chord material in the upper hand region. Then things started to get even more interesting.
More recently they released the MCC Plus 4. This grip had a thicker lower hand area and was inspired by tour players feedback. The grip simulates the feel of four extra layers of tape on the lower hand and so reduces grip pressure whilst increasing power. It is a great product and one that many elite golfers have seen great results from.
ALIGN
So many years of development have helped strengthen Golf Pride's position as the number one grip producer. This year they have taken all of this technology and added a fantastic new feature, ALIGN.
This is not new technology. 'Reminders' have been added to golf grips for years to help players with consistency. In fact, 1 in 3 PGA Tour players use a grip with a reminder. However, Golf Pride's new ALIGN system has refined this technology further.
What is ALIGN?
The ALIGN system has been added to the MCC and MCC-Plus 4 grips mentioned above. Traditional reminders go beneath the grip but Golf Pride have added a textured insert to make the feature feel even more pronounced.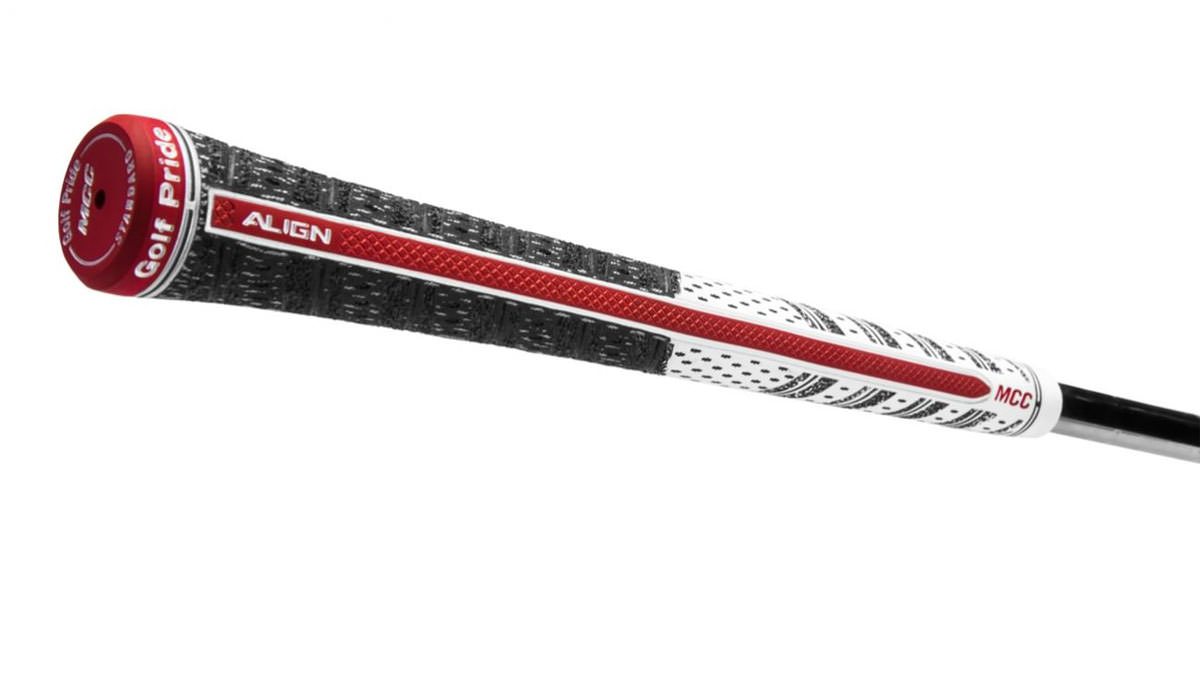 The ALIGN-channel in these grips is 50% firmer than the rest of the grip. It is raised out from the grip as much as is allowed under USGA rules. It is also textured with a diamond pattern. These three features combine to make a powerful new development in grip technology. This is something that will help golfers gain consistency.
Time to change?
As we move toward the beginning of the golf season, now is the time to get your clubs re-gripped. There are so many different grips on the market and every golfer will have his/her own preference. It is essential that you go and try different grips to see what you like best. What we have here is a refinement of something that will help many golfers! Give them a try!
Find your favourite courses: www.allsquaregolf.com and download our mobile app on the App Store and on Google Play.