Brodie MacDonald is the general manager at Royal Golf La Bagnaia. Our team caught up with him to know more about the resort and the future of golf in Italy.
Can you tell us a bit more about yourself and how you got into golf?
Being born and raised in Fife, Scotland golf is very prominent to Fifers. I have been fortunate to travel and work across the globe. My first experience of golf was at a young age, visiting a practise field with my brothers next to a local golf course, although at 5 years old I was more interested in retrieving golf balls from the trees and finding different coloured golf balls than actually hitting the ball. I first got into golf when the family moved house close to Kirkcaldy Golf Club where I signed up as a member from 1997 – 2006. The Junior section was thriving, there were 3 junior sections, 4 holes, 9 holes and 18 holes to progress through, I immediately became hooked and went on to the win the Junior Club Championship in 2004, the clubs centenary year. After an Internship in Golf Management via the Ohio State University, I thought carefully about my next move which was becoming a PGA Qualified Professional. I still enjoy learning and recently achieved my Club Management Diploma via the Club Managers Association Europe (CMAE). My first experience of IMG was at Nirwana Bali Golf Club, then at Chee Chan Golf Resort in Thailand. I have also previously worked at:
You are the General Manager at Royal Golf La Bagnaia near Siena in Italy. What got you excited about this new opportunity?
Royal Golf La Bagnaia has embarked on an exciting partnership with IMG to become a fully managed IMG property. My background has always been working at Golf Resorts which offers more than just golf. The setup is second to none! 'My office' La Bagnaia Golf & Spa Resort is in a stunning location offering picturesque panoramic views. The resort boasts a breath-taking setting combined with an abundance of space offered at our practise facilities and on the golf course. It provides a tranquil calming environment away from all the hustle and bustle of the daily stresses. Perched on the top of a hill, the vista from the clubhouse is incredible as you are able to see the majority of the holes from the clubhouse and also offers some fantastic views looking back when you play the course. The Clubhouse design and style are very fitting of a rustic Tuscan experience one would hope to capture while visiting. The property is family owned and as passionate golfers they are a joy to be around and work with. Siena, a beautiful medieval town, is situated only 15 mins away and a must visit.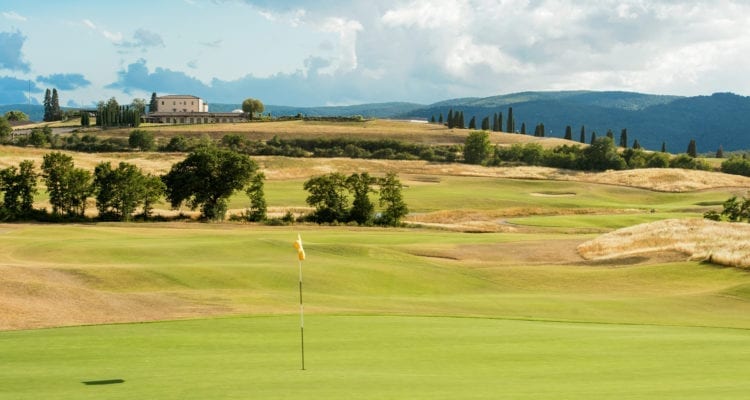 What makes La Bagnaia Golf & Spa Resort so special and different?
The golf course designer, Robert Trent Jones Jr did a fantastic job in maximising this wonderful setting and location. Between the vistas, elevation changes, peacefulness and local wildlife it really is a joy to roam the fairways and take everything in. The course offers a good mixture of different hole lengths and difficulties which offers a great balance overall. The variety of tees provides a challenging yet enjoyable experience for golfers of abilities. While the product is fantastic and the Hilton brand is recognized worldwide, we intend to capitalise on the reputation for not only repeat clients but guests travelling to Tuscany for their very first time.
How would you describe Curio Collection by Hilton Hotel?
We are fortunate to have a Hilton Curio Collection Hotel onsite which boasts 101 rooms and some wonderful amenities and facilities such as the Buddha Spa by Clarins. The best descriptive words would be unique, quaint, rustic, Tuscan, luxurious and charming.
What makes Italy a great golf destination?
Italy has the potential to become an even better known and established golfing destination over the coming years. It should look to capitalize on the momentum of Francesco Molinari's recent red hot form and multiple successes and the magnitude of hosting the Ryder Cup for the first time ever in 2022. Italy is much more than golf, while great golf courses are important, Italy can offer a complete experience, amazing food, fine wines, culture, stunning views, scenery and great golfing weather.
How will the 2022 Ryder Cup impact golf in Italy? What do you expect from it?
For certain it will have a positive impact. The Ryder Cup 2022 is a hot topic among industry professionals, as there is a feeling that currently there's not enough being done to capitalize on hosting golf's greatest sporting event. Personally having worked at the Belfry from 2008 – 2012, I closely saw the preparations and impact the Ryder Cup at Celtic Manor 2010 had on golf locally and attended Gleneagles in 2014. Considering the population of Italy in comparison to active players there is massive potential to stimulate, engage, improve participation and become more accessible. I had hoped to see greater initiatives and campaigns in place to maximize having golf's greatest sporting event.
What are your three favourite golf courses in the world and why?
This is a horrible question! If I could only pick 3 they would be as follows:

Kingsbarns for its location, views, course design and playability which I value as a very important charecteristic as golf is meant to be fun, not punishing. I will never forget my round at Old Tabby Links. What a great golfing experience, American style high end service and a spectacular golf course in an amazing setting! Monte Rei isn't your typical European golf experience, the service levels are phenomenal, it has a great clubhouse, the course is kept impeccably and thanks to routing it offers a feeling of millionaire's golf.
Tell us about your best golfing memory?
While the miracle at Medinah is up there, my best golfing memory would be standing on the 18th hole watching Jack Nicklaus play his last hole at The Open in St Andrews in 2005. The farewell was fitting of such a fine gentleman and ambassador of the game.
Royal Golf La Bagnaia is also part of IMG Prestige, an elite reciprocal program featuring a network of premier golf properties and partners from across the world which have a close association with IMG. Full members at each participating club are entitled to preferred access, special rates, discounts, benefits and privileges offered by the other participating clubs and selected IMG Prestige partners through the IMG Prestige Concierge.
Find your favourite courses: www.allsquaregolf.com and download our mobile app on the App Store and on Google Play. Contact us at info@allsquaregolf.com to book your stay.