If there's one club in the bag that we love to splash the cash on, it's undoubtedly the driver. But with so much choice on the market, it can be hard to know where to start when making a purchase. We take a look at the best ladies' drivers for 2017.
PING Ge L Driver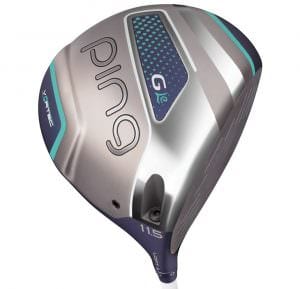 Forming part of PING's new ladies' collection, the G Le builds upon the success of the women's Rhapsody clubs. Designed with an eye-catching navy/mint colour scheme, the G Le driver utilises the same technology as that harnessed in the men's G Series.
Engineered specifically to suit the needs of the female golfer, the G Le features a T9S face (PING's thinnest ever). This enables the golfer to produce higher ball speeds, for more distance and optimal launch angle and spin.
Other features include the company's iconic crown turbulators, which aid aerodynamics for maximum clubhead speed.
As with the G driver, Dragonfly technology better positions the centre of gravity for more forgiveness and consistency. A lighter swing weight produces an overall straighter ball flight.
TaylorMade M2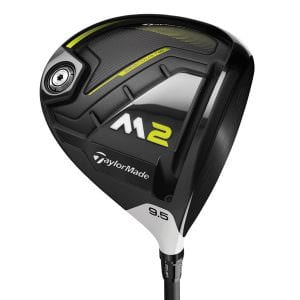 TaylorMade is increasingly becoming the brand of choice on the LPGA, and it's easy to see why with the M2's exceptional distance and control.
The club boasts several ground-breaking technologies.
M2 is built with a multi-material construction, that features an ultra-light, ultra-thin and high-strength Carbon Composite Crown. This structure helps unlock more yards without compromising on distance.
Following on from the success of its predecessor, the M2 also houses a new, more flexible Speed Pocket.
Alongside a lower centre of gravity and several other innovative features, TaylorMade have produced a more forgiving, higher flying and longer driver, ideal for ladies you are serious about improving their game.
Srixon X355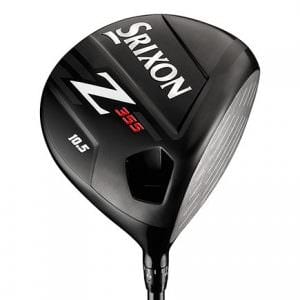 Srixon's longest and most forgiving driver to date, the Z355 showcases the brand's innovative "Action Mass" technology. This concept utilises a heavier head weight, counter-balanced in the shaft, to produce more yards, as well as greater consistency.
There is also plenty of space for customisation with Srixon's QTS adjustability system. This allows the player to choose from 12 different settings to alter loft, lie and face angle.
Golfers can choose between starting lofts of 12 and 14.
Lynx Crystal Driver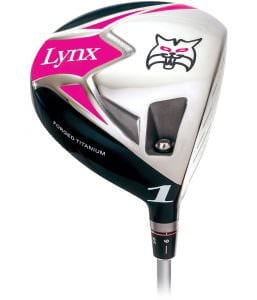 The brand played by golfing legend Laura Davies. Considerably cheaper than the other clubs in this list, the driver is designed to deliver outstanding performance and playability for lady golfers on a more modest budget.
The club is fully adjustable, with players able to shift loft settings and add a draw bias – to help eliminate a slice.
The driver offers great forgiveness, easy ball striking to inspire confidence, and the high loft promotes a strong ball flight for maximum carry.
The Lynx Crystal driver has a Lynx XLR8-100 graphite shaft fitted as standard and comes with grips that match the colour of the head and shaft.
Cobra KING F7 Driver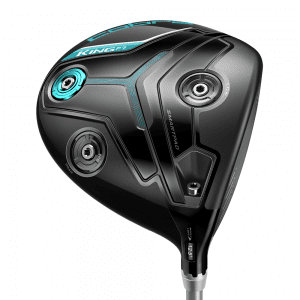 Without doubt one of the most innovative clubs on the market. The KING F7 Driver debuts as COBRA's first connected golf club. This means golfers can receive immediate performance data from their club onto their smartphone.
By pairing an ultralight sensor that's embedded in the grip with a downloadable app, players can automatically track stats from every drive.
Alongside the ability to keep track of your data, the club is also equipped with three centre of gravity settings, enabling the golfer to achieve maximum distance.
The KING F7 driver features a re-engineered Forged Ti-811 E9 Face. This is lighter, thinner and hotter, creating faster ball speeds and a larger Sweet Zone™ across the face.
Yonex EZONE XPG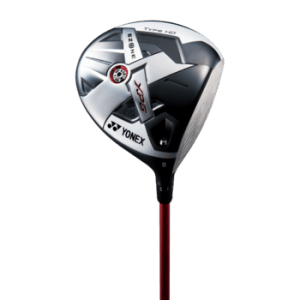 Yonex continues to be one of the most popular brands for female golfers. The EZONE XPG is their latest offering. The club features an expanded carbon graphite on the crown for an ultra-low and deep centre of gravity.
A heavy head design with a counterbalance grip generates greater head speeds for more distance. Add to that a lightweight shaft and you're assured maximum yards off the tee.
The driver also showcases the Quick Adjust System. This allows the loft to be altered by up to +/- 1.5 degrees, ensuring golfers find the ideal ball flight.
Wilson Staff D300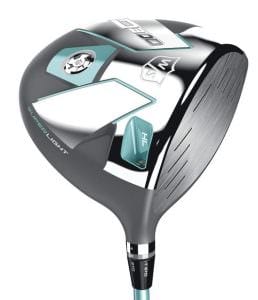 From Wilson Staff's new women's club range, the D300 Driver is one of the lightest and fastest adjustable drivers on the market.
Players no longer need remove the head from the shaft to make lie and loft adjustments thanks to Green Means GO! Fast Fit technology. As a result, adjusting your driver has never been easier.
The club has a new aerodynamic head shape coupled with protruding Micro Vortex Generators. Together these factors reduce drag to increase clubhead speed and distance.
What's more, Right Light Technology, with an interchangeable weight, permits golfers to swing faster with the same effort.
A six-way adjustable hosel (including three draw options) covers three loft settings (12.5°, 13.5° & 14.5°), allowing players to attain their ideal launch angle, ball speed and spin rate from the tee.
Find your favourite courses: www.allsquaregolf.com and download our mobile app on the App Store and on Google Play.