We all know that St Andrews is the home of golf but today we want to draw your attention to the 'holiday home of golf'. There aren't many destinations that can boast the tournament pedigree and a jaw-dropping beauty like Lake Geneva.
Home to The Omega European Masters on the European Tour, The Rolex Trophy on the European Challenge Tour and The Evian Masters the fifth major for ladies, this region is an incredible playground for golfers. Oh, and the views are pretty special too!
Crans-sur-Sierre (Crans, Switzerland)
Home to the Omega European Masters and arguably the most dramatic settings for an event on the European Tour, Crans-sur-Sierre is an absolute gem! This course is nestled high up in the Alps and will require your best golf. Designed by, and named after, Severiano Ballesteros, this is one of the most stunning golf courses around Lake Geneva. Much like it's designer, the 6300m course is full of character and charm. With a backdrop of the Swiss Alps you will spend most of your round in awe at the beauty of the surrounding mountains.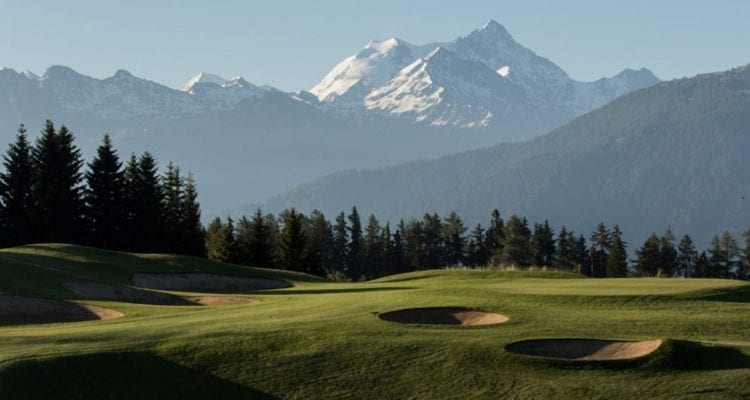 If you are pressed for time and can only fit in nine holes then the Jack Nicklaus course is a great option at Crans-sur-Sierre. The short but tricky nine-holer requires precision and will test any golfer. It is widely regarded as one of the most spectacular nine-hole courses in the world, do not miss it!
Golf du Mont d'Arbois (Megève, France)
Sunlight floods this course all day given it's south-facing position on a plateau over 1300m above sea-level. Don't worry about this being a tough slog to get round though, the course has only gentle slopes so you can just enjoy the surrounds as you amble round this alpine treat. When you reach the highest point on the course, the 14th hole, the panorama is one to be savoured with stunning views of the Mont Joly range and the Arve Valley.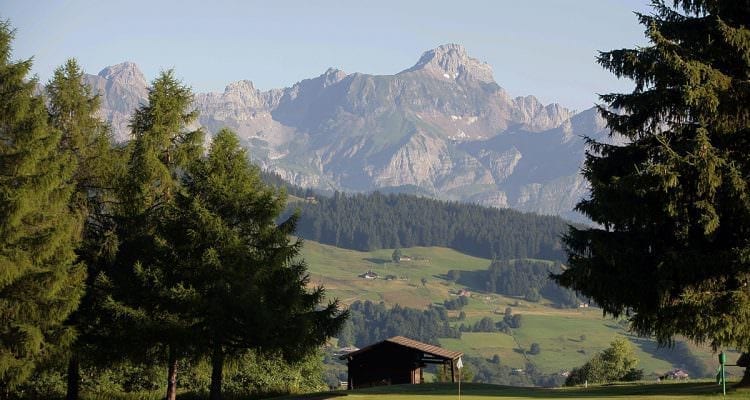 The course was first designed in 1923 then redesigned in 1964 and also features a six-hole winter course which holds snow golf tournaments. By all accounts this is not a difficult golf course, it is one for players to enjoy, so just plot your way around and take in the incredible views.
Golf de Bonmont (Chéserex, Switzerland)
This 6080m par 71 was first designed in 1982 by David Harradine then renovated in 2002 by his son Peter Harradine and is less than 20 minutes from the banks of Lake Geneva. Playing this course is a luxurious affair from the moment you arrive and the setting is nothing short of outstanding. The course is built on the grounds of a twelfth century Cistercian Abbey and of an eighteenth century mansion which has 18 rooms.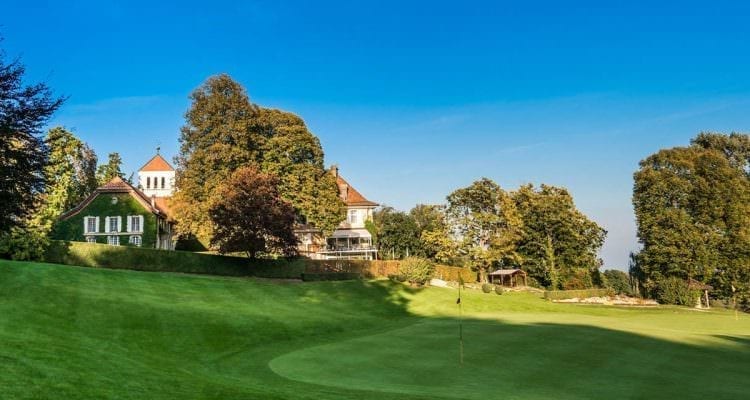 To score well round Golf de Bonmont you will need to avoid many water hazards and lots of well-placed strategic bunkering that protects the well-kept greens. The course also features many very old trees which are both incredibly impressive and provide more obstacles to navigate around. This course is bursting with character. When you add to it the beautiful setting of the alpine, especially the Mont-Blanc mountain, and Lake Geneva views it is easy to understand why it is widely regarded as one of the best courses in Switzerland.
Evian Resort (Evian, France)
Consistently among the top golf resorts in the world and the only course in Continental Europe to host a major championship annually, the Evian Resort is a sumptuously special place. With a strong French identity and some of the best views of Lake Geneva (or Lac Leman as it's known as in France) and the Alps, the 6030m par 72 course is a real treat for golfers. The par three second hole provides one of the best views of the lake.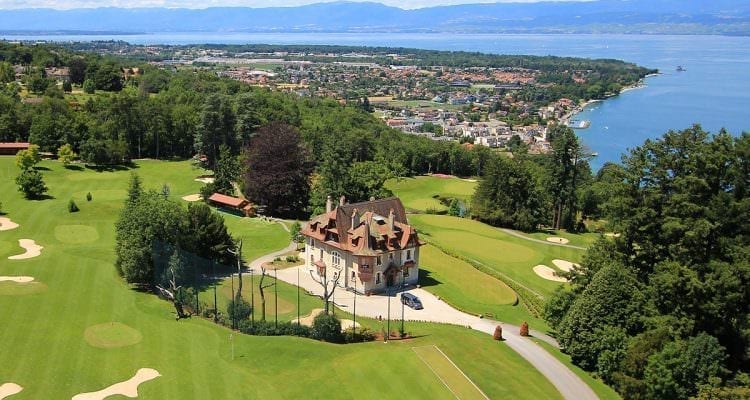 This is another course which requires precision more than it does power with tight tee shots and tricky testing par threes. Another feature of Evian is the fast running greens that will test even the best putter. You certainly don't want to be above the hole on these greens! The golf course at Evian is one of the oldest in France and is a true delight.
Golf Club de Sion (Sion, Switzerland)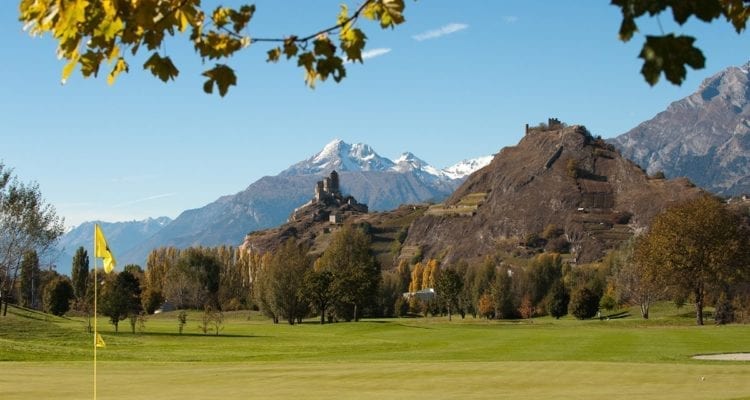 Situated in the beautiful region of Valais in Switzerland, Golf Club de Sion offers an 18 hole course surrounded by the Chateau de Valère and Tourbillon. Designed by the Swiss architect Peter Harradine, the course has amazing panoramas on the Swiss Alps. With wide fairways and relatively large putting greens Golf Club Sion offers a very pleasant experience to every golfer.
Thanks to its South exposition, the sun always shine in Sion and the course is one of the only one in Switzerland to stay open all year long, while the other courses have to close due to snow. Golf Club de Sion has all the facilities that you need to practice and have a great experience. Once you are done with your 18 holes, you can enjoy a nice lunch at the Bistro du Golf.
Golf d'Esery (Esery, France)
The Sacconay course at Golf d'Esery is one for good players to enjoy. It's a tight course that requires accurate play for the tee and will test all facets of your game. This, like all of the other courses mentioned so far, has views that will put a smile on your face even if your golf won't. Golf d'Esery has wonderful views of Mont Blanc as you make your way round the tricky and testing course. One of the most challenging features on the course are the greens. Three-putts won't be hard to come by if you misplace your approach or don't quite have the short stick working when you play here.
If you are short for time or fancy a quick warm-up there is also a great little nine hole course on-site too. All in all this is a fantastic place to play golf but make sure you bring your best game or bring your camera in case you don't.
Golf Club de Geneve (Geneva, Switzerland)
This was one of Robert Trent Jones' first projects in Europe, out-with the UK, and it is a truly fantastic piece of work. Even from the first hole you get views of the lake and as you make your way round to the south side of the course you get views of Mont Blanc and the Alps. This course has a mix of some tricky holes that require strategic accurate golf and some that reward more powerful shots. The course is set on quite a small piece of land but Trent Jones used his skill to weave the eighteen holes into the natural parkland surrounds and used the native trees to his advantage in creating this wonderful course.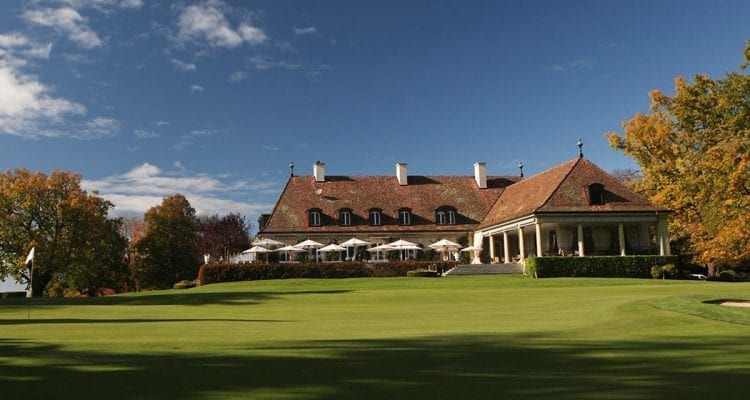 The European Challenge Tour hosts The Rolex Trophy, one of its flagship events, at Golf Club de Geneve. This course requires you to stay focused all the way round and the final stretch of three holes have been known to ruin cards so don't lose concentration. This is a great course to play and good play is rewarded, just be careful to avoid the trouble! 
Domaine Imperial (Gland, Switzerland)
Situated literally on Lake Geneva, this Pete Dye creation offers some truly superb panaromas of the great lake and the surrounding mountains. With a clubhouse teeming with history, Emperor Napoleon III spent some time here, and with such a setting it is easy to see why. The course opens with a trickier front half and its length, 6339m from the back tees, will make it entertaining for golfers of all levels. The back nine has more of a Scottish links feel to it using the naturally undulating land to create a fast running homeward half.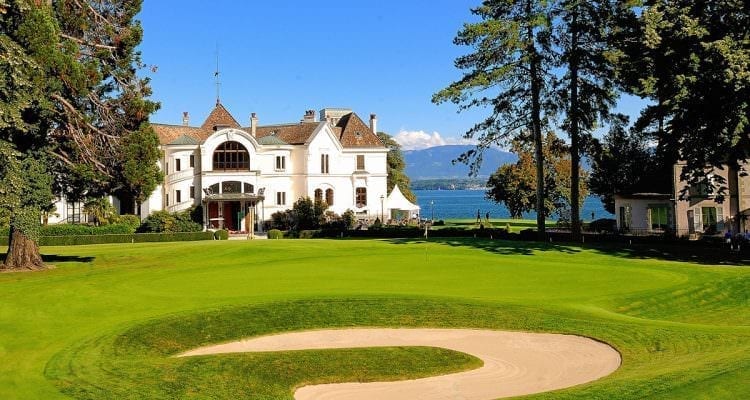 Pete Dye designs courses on the principle that a par should be a good score on a hole. At Domaine Imperial he has built a course that will challenge good golfers but remains fun for anyone to play. This is deservedly regarded as one of Switzerland's finest golf courses.
Discover more courses and start reviewing the ones you've played on All Square – the Facebook and Trip Advisor of Golf: https://www.allsquaregolf.com/clubs