We've all heard about Brooks Koepka, the reigning US Open champion. But how much do you know about his younger brother, Chase? He may not have any major silverware to his name, at least not yet, but the twenty-four-year-old is already following in his brother's footsteps, forging a name for himself in Europe, before attempting to make the jump over the Atlantic to the PGA Tour.
All Square caught up with the American to find out about his relationship with Brooks, his favourite layouts, and which course he could never tire of playing.
What are your favorite 3 courses on tour and why?
1. Quail Hollow Golf Cub, North Carolina
The golf course was in unbelievable shape and it tested every aspect of your game. You have to hit every single club in your bag, which I really like. There are so many courses where you only use 5 or 6 in your bag.
2. Miklagard Golf Club, Norway
A golf course offering fantastic views and was in great shape. The greens are fast and challenging. It is a long golf course but if you are aggressive off the tee you can really play well out there.
3. Albatross Golf Club, Czech Republic
Albatross Golf Club is a very challenging course. On almost every hole par is a decent score. I like golf courses that reward an even par round.
What are your 3 favorite courses in the world?
My favorite course is The Floridian in Palm City, Florida. It's a great membership golf course, which is always in perfect shape.
My second favorite is Harbor Town Golf Links in South Carolina. I played a few junior tournaments out there back in the day. You have to shape the ball both ways off the tee, I loved that. You can play the course is many different ways.
My third favorite course has to be the New Course at St. Andrews because of all the history around this place. It was so much fun to be out there and it was an unbelievable experience for me.
What are the 3 courses on your bucket list?
The first is definitely Pebble Beach Golf Links. I've been out there but I've never played the course. I would also love to play Augusta National. It would be amazing to play it during the Masters. I've always wanted to play Pine Valley Golf Club. I heard so many great things about the course from people that played there. It has to be really amazing.
If you could play only one course for the rest of your life, which one would it be and why?  
The Floridian in Palm City. I never get tired of playing this course.
Where would you recommend golfers spending their golf holidays?  
I think people need to experience as much as they can and discover as many different destinations as possible. The beauty of golf is that every course and every place has something new to offer.
If not a career in golf, then what?
If I weren't playing golf, I would probably be a college coach. I love teaching people and influencing people's lives. My college coach had a big impact on my life, so the impact I could have as a college coach would be special and rewarding.
If you could have one mulligan in your career, where would you use it?
I would have needed a lot of them… If I can have only one, I would use it at the Amateur Players Championship. On the 16th green my putt hit a spike mark and missed the hole. At the end of the day I lost the tournament by one stroke and the winner of the event got into the RBC Heritage on the PGA Tour at Harbor Town Golf Links, one of my favorite courses.
How's your relationship with your brother Brooks and do you play some golf together?  
We both have very busy schedules so that we don't have much time to play together. When we get on the course, we are very competitive. Having him as a role model is huge. He had a big influence on me to come and play golf in Europe. Watching him play and develop into one of the best players in the world keeps me pushing hard and I want to be there as well.
How was it to play the Zurich Classic with Brooks earlier this season?
It was a lot of fun. I really enjoyed playing in my first PGA Tour event and having him there calmed me down. He could see how great my game has become and for me it was great to realize that I was not far off from being able to compete on the PGA Tour. At one point we got up to second place, which was a great experience.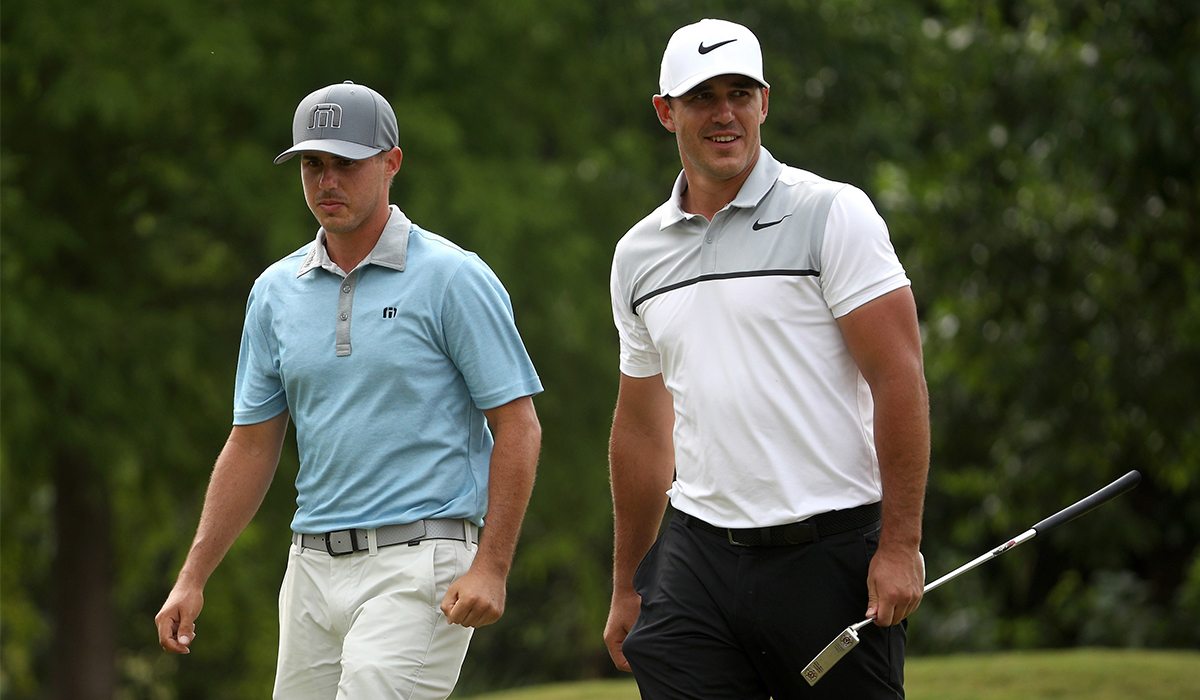 What would make golf more fun?
I think speeding up the game would be great. Golf is too slow at times.
Your dream fourball?
Ben Hogan, Moe Norman and Ernie Els.
Follow Chase Koepka on All Square: www.allsquaregolf.com/golf-users/chase-koepka
Find your favourite courses: www.allsquaregolf.com and download our mobile app on the App Store and on Google Play.