Quinta do Lago is situated in the Algarve region on the southwestern tip of Portugal. The region boasts beautiful beaches and more than 40 picturesque golf courses with the perfect climate for golf all year round.
With three courses and great practice facilities, Quinta do Lago is an unmissable resort in this area. Spending time at Quinta do Lago provides you with an experience that is good for the soul. The resort is all about the promotion of well-being, activity and spending time with those closest to us. This is one of the most exclusive resorts in Europe and since its very beginning has been deeply-rooted in the idea of luxury living.
"Quinta do Lago is one of the best golf resorts in Portugal with three fabulous golf courses. Always great to be back there!" – Ricardo Melo Gouveia, European Tour
The three great golf courses at Quinta do Lago
The 6,500-metre par-72  South Course has hosted the Portuguese Open 8 times and is a course you will enjoy no matter your standard of play. The course uses its surrounds to envelope you making it an intimate golf experience. From the tall umbrella pines to the wild flowers and the lakes, there is a lot to enjoy about the natural beauty of the course. 
The first stand-out feature of the Laranjal Course is the rolling terrain that the it has been crafted over. The 6480-metre par-72 championship course was built on land that used to be an orange grove in the Ludo Valley. The course works its way around five beautiful lakes and navigates through umbrella pines, cork-oaks and some remaining orange trees.
The North Course was completely overhauled in 2014 in the capable hands of Beau Welling and Paul McGinley. With around €9 million going into the project the result is understandably astounding. Everything on this course has been built with state of the art technology and with the highest quality in mind.
There are many special packages available for you to choose from at Quinta do Lago. These include great value stay and play deals as well as offers for families. For more details, click here.

The Paul McGinley Academy and TaylorMade Performance Centre
The successful Ryder Cup captain has been heavily involved in developing the academy that bears his name. He has and continues to take a very hands-on approach to ensure that the coaching staff at the academy know McGinley's teaching methods exquisitely. 
The TaylorMade Performance Centre is the only centre of its kind in Portugal and one of few in Europe. This flagship fitting centre allows you to try the latest equipment from the TaylorMade brand. Their highly-trained staff are on hand to help ensure that your equipment is perfect for you.
 
A fine choice of restaurants
It's not just an array of golf on offer at Quinta do Lago. There are nine restaurants/bars to choose from and that doesn't include the golf clubhouse. Whether you are in the mood for something relaxed or formal, there is something for you and all dining options make the most of the fine local Mediterranean produce that is on-hand.
Bovino is a bespoke steakhouse that combines incredible decor with prime cuts of meat to create an exclusive dining experience. Some of Europe's most celebrated interior designers were charged with the surroundings of the restaurant.
Casa do Lago sits at the edge of the lake and takes locally-caught seafood for you to enjoy on the outdoor terrace or beside the fire pit. Koko Lane is a popular and relaxed bistro that is known best for its breakfasts and wood-fired pizza. After a morning on the course, this is the perfect place to relax with friends and enjoy a great lunch
Pure is a local favourite and one for the health-conscious among you. This is a great breakfast, brunch or lunch spot that is known for its homemade desserts and healthy salads.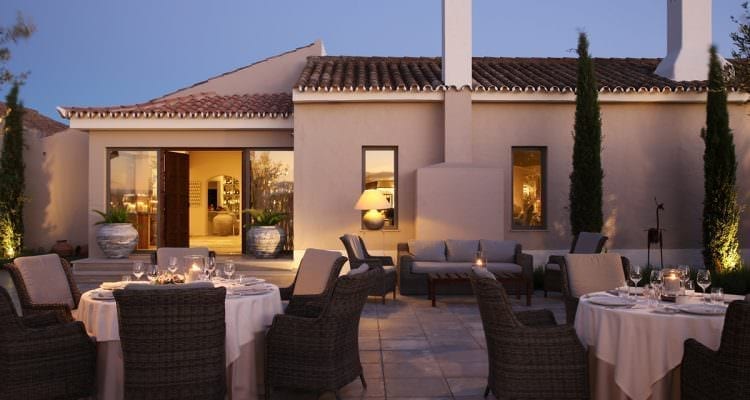 The Quinta do Lago Golden Tournament
 If you want to experience Quinta do Lago at its best and enjoy a week dedicated to golf, the Golden Tournament is the perfect stay and play package for you and your friends. This tournament is a great opportunity to meet other like-minded golfers and play five rounds (2 Laranjal, 2 South Course and 1 North Course) on the resort. A cocktail reception and a gala dinner with prize ceremony will be organised by Quinta do Lago's staff to help you spend a memorable week at one of the finest resorts. For more information on this event, click here.
Life at Quinta do Lago is special. Spending time here doesn't just allow you to switch off from whatever may stress you out in day to day life, it allows you to create lasting memories. Whether you decide to buy a property or rent a place for a short trip, this is luxurious living that will enhance your well-being. Bring the family and your clubs and leave with a smile and a need to return.
Find your favourite courses: www.allsquaregolf.com and download our mobile app on the App Store and on Google Play.