Golf & Country Club de Bossey member and All Square ambassador Stephane Castella has been lucky enough to travel throughout the world playing golf. We caught up with him to talk about the courses he loves to play and the layouts that are still at the top of his bucket list.
How did you get into golf?
I went a couple of times to the practice with friends while being in my 20's but seriously started golf in 2000 when I received a golf initiation package as birthday gift from my girlfriend (who became later my wife). One of the best I ever received, a kind of life changer !
You are a member at Golf & Country Club de Bossey, can you tell us what makes your club so special?
Before being settled in any club, Golf & Country Club de Bossey wasn't exactly my favorite course in Geneva area, being too hilly and challenging to my taste. The time past and since it's only a 10 minute drive from home, it became the most obvious choice to me when I decided to join a club in 2012. I quickly learned to love the layout and can't get enough to play it now.
While being fairly short by modern standards (6000 meters from backtees), it's a challenge for players of any level with most greens being elevated and well protected by numerous bunkers and fierce slopes. A lot has been recently done to improve facilities (greenkeeping, irrigation system and drainage, new indoor training center, restaurant refurbishment) and we are now proud to host a pro tournament, the Bossey Ladies Championship sanctioned by the LET Access Tour. The Club received unanimous accolade from players and officials during the first edition held last year. While being private, our facility is open to visitors, therefore don't hesitate to contact me if you're in the Geneva area.
Can you tell us about your most memorable golf experience?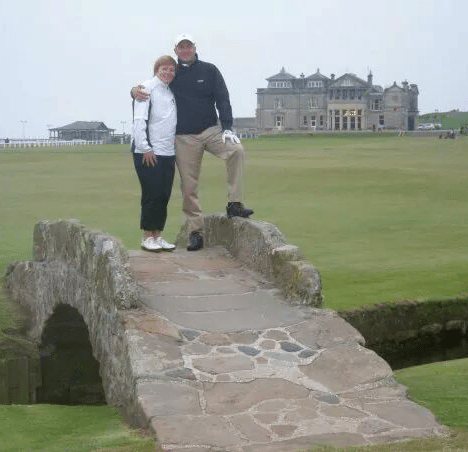 I would say sharing a round with my wife on the Old Course in St Andrews just six days after we got married ! The year before, we had planned a trip to the Auld Grey Toon with a round on this mystical course but our advanced booking application had been unsuccessful. Project was sidelined, life continued and we got engaged a few months later. While being actively working on our wedding celebrations, we received a totally unexpected confirmation for an Old Course tee-time during the week following our D-Day. By chance, we had planned an unofficial golfing honeymoon across Switzerland at that time, so we just had to switch destination to Scotland! While it wasn't my maiden round there, I still cherish these moments like sharing the Royal & Ancient clubhouse's pressure on the first tee, driving over the shed on the Road Hole or being pictured together on the Swilcan Bridge. Unforgettable !
What made you want to become an All Square ambassador? What do you like most about All Square?
I accepted the ambassador mandate mostly because I believe in the All Square project and I'm glad to support a social media fully dedicated to our sport. I have to say that I'm connected to All Square from almost the beginning of your adventure. It doesn't mean that I've been very active at a first stage, but I'm well improving! Since I like sharing my golfing experiences, mostly through pictures, All Square offers a perfectly dedicated complement to my Instagram account and Flikr gallery and I hope that I'll be able to bring my stone to All Square growth and success!
How often do you travel for golf every year and what is your favorite golf destination?
I'm a happy golfer if I can manage 3 to 5 trips a year, including either fully golf dedicated ones and family vacation (I mostly book places where at least a good track is available, i.e. Mauritius, Thailand or Portugal). My main family destination is Mauritius, mostly at our beloved Constance Belle Mare Plage Resort. The hotel is beautiful and offers a great value for golfers with two fully included nice tracks onsite plus two other in the area (Ile aux Cerfs & Anahita). We discovered last year a true hidden gem as the Westin Costa Navarino in Greece which offers amazing facilities including two really fun, manicured and beautiful courses, the Dunes Course and the Bay Course. But please, keep it for you ! For "golf only" trips, Scotland and Ireland are by far my favorite destinations. I can't get enough playing beautiful links courses !
What are your 3 favorite courses in Europe? the UK? the US?
In Continental Europe, Monte Rei Golf & Country Club (Algarve) is easily my first pick, it's such a amazing experience ! Praia d'El Rey (Portugal) and Finca Cortesin (Andalucia) to complete podium spots.
My most memorable golfing experiences happened actually in UK (Kingsbarns Golf Links and Trump International Golf Links) and Ireland (Old Head Golf Links), but I have to mention Royal County Down and Royal Portrush (both in Northern Ireland) since both are likely the very best courses I ever played.
I haven't played that much in the US, but I absolutely loved my round at Wolf Creek Golf Club, near Las Vegas. Such an unbelievable set up and desert experience ! I would love playing all four Bandon Dunes courses and Pebble Beach. Also Cypress Point, if anyone may open me the door.
The next golf trip you are looking forward to?
I'm really looking forward to the coming three months since I'm going to travel three times to Scotland and play a total of twelve rounds on some of the very best courses, like North Berwick Golf Club, Royal Troon Golf Club, the Ailsa Course at Trump Turnberry, Royal Dornoch Golf Club or Castle Stuart Golf Links! Once done, it should lift my "All Square World's Top 100 Courses" count to 18. A second family trip to Costa Navarino is also planned next summer, and I hope it will also be a highlight of my golfing year. Last but not least, I'll be at Le Golf National in Paris to support Ryder Cup's Team Europe!
Join All Square and connect with Stephane: www.allsquaregolf.com/golf-users/stephane-castella
Connect with like-minded golfers, follow the latest news in golf and discover more than 33,000 golf courses in 180 countries on www.allsquaregolf.com or download our mobile app on the App Store and on Google Play.
Contact us at info@allsquaregolf.com to book your next golf trip.