All Square ambassador Dino Canepa has played some of the finest golf courses in the world. From Valderrama to Malaysia, he tells us about his favourite courses and what first attracted him to join the platform.
How did you get into golf?
My father was very much involved in the development of Golf Club Ennetsee. I started there as a Junior and made it up to the extended juniorship organization.
You are a member at Black & White Golf Resort Bratislava, can you tell us what makes your club so special?
Well, due to personal contact, I was asked by fellow members to join Black & White Golf Resort. It is a very unique course with very competitive holes.
What made you want to become an All Square ambassador? What do you like most about All Square?
I'm very honored by the appointment of the Ambassador status and it underlines my achievement within the golf community. As you might be aware I have several diversified interfaces to golf, from tournament organization, management of a golf club as well as corporate management. This all combined makes me best positioned to become an Ambassador. I like to idea and the enthusiams of All Square and therefore are keen to be part of this growing project.
Can you tell us about your most memorable golf experience?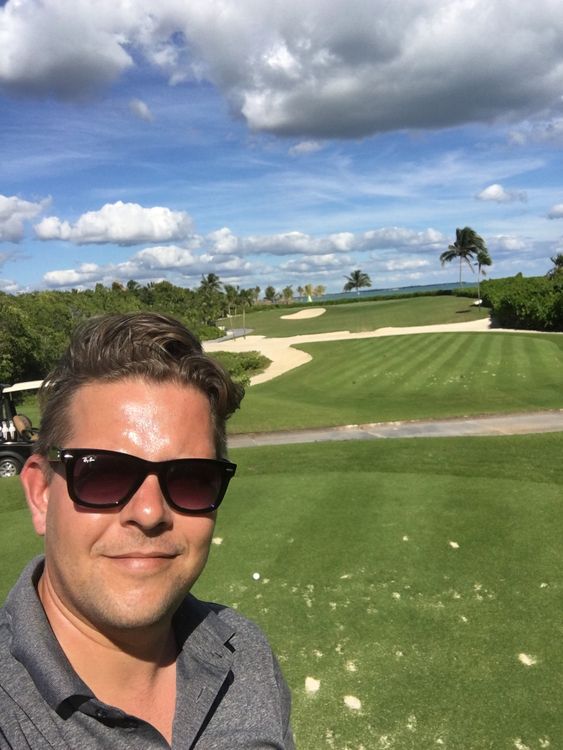 Well, I have several good memories, however I played once against Julien Clement in Golf Club Vuissens and my boss told me that I need to win at least 1 hole of the 18. As we played stroke play and I trailed the first 9 holes by plus/minutes 1 or 2 strokes. I put all my strength together and on no. 10 a PAR 5, I played an Albatros (2 shots) and Julien only play a birdie and therefore I achieved my task given by my boss and also I won at least 1 hole with an Albatros, which is more valuable then an Eagle (which as of today I have not played yet).
How often do you travel for golf every year and what is your favorite golf destination?
Well, I'm very fortunate with my job as it brings me to unique places throughout the world and I have at least 2-3 overseas trips, plus several short-trips to neighboring countries to play great courses.
What are your 3 favorite courses in Europe? the UK? the US?
Europe: Penati Golf Resort (Slovakia), Real Club Valderrama (Spain), Pevero Golf Club (Italy)
UK: Wentworth Club, Loch Lomond, Royal Dornoch Golf Club
US: Shadow Creek Golf Club (Nevada), Wolf Creek Golf Club (Nevada), Innisbrook Copperhead Course (Florida)
Rest of the World: The Els Club Teluk Datai (Malaysia), Nirwana Bali Golf Club, Emirates Club – Majlis Course (UAE)
The next golf trip you are looking forward to?
Well, I just got invited to play Monterey in Portugal.
Join All Square and connect with Dino: www.allsquaregolf.com/golf-users/dino-canepa
Connect with like-minded golfers, follow the latest news in golf and discover more than 33,000 golf courses in 180 countries on www.allsquaregolf.com or download our mobile app on the App Store and on Google Play.
Contact us at info@allsquaregolf.com to book your next golf trip.