A former basketball player, Florian Pichler arrived fairly late to the game of golf but has been hooked ever since. The Golf Club Montfort Rankweil member is sharing his passion as an ambassador at All Square, and took some time out to tell us about the courses he loves to play.
How did you get into golf?
I started the game pretty late at the age of 25. My main sport until then was basketball and I played in Austria's 1st and 2nd league there. My parents-in-law both played golf and they took me to a small 9 hole course to try it. I was immediately hooked. Next thing I did was to book a golf vacation and join a local club.
You are a member at Golfclub Montfort Rankweil, can you tell us what makes your club so special?
Golf Club Montfort Rankweil is only 5 minutes away from home. As time is limited next to work and family, this is a big benefit for me. It's also easy to play only a few holes. I can do loops of either 3, 5, 9 or 14 holes with only a short walk back to the clubhouse. This way I can still go and play a few holes even if there isn't time for 18 holes.
And an important factor is also the membership. There's always someone around to play a few holes.
What made you want to become an All Square ambassador? What do you like most about All Square?
Another All Square ambassador was showing me the app and I immediately liked it. It's great to connect with other like-minded people. And I am happy to help grow the All Square community!
Can you tell us about your most memorable golf experience?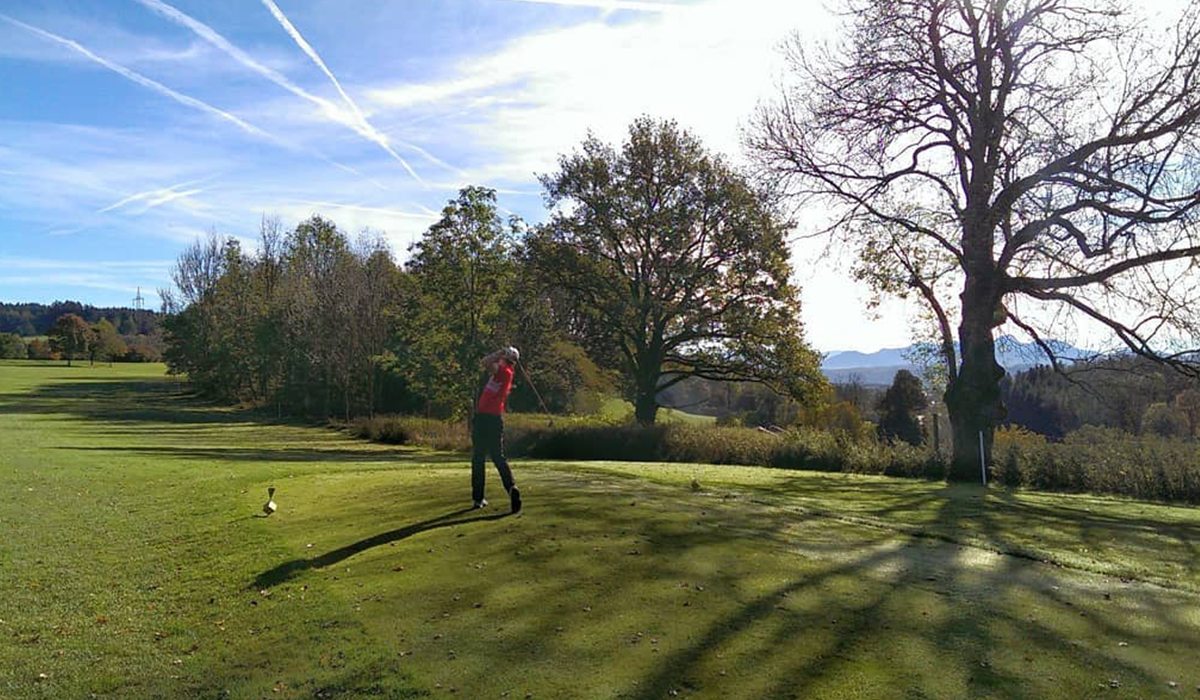 My most memorable golf experience was a week in St. Andrews last year. We stayed only a par3 away from the 18th green of the Old Course. St. Andrews is heaven for every golf enthusiast. Playing the Old Course was a fantastic experience and a long dream come true. Plus there are many other great courses in the area.
Another fantastic golf experience was a day at Morfontaine Golf Club. Playing the Grand Parcours and the Valliere course is one the best days a golfer can have!
How often do you travel for golf every year and what is your favorite golf destination?
This is subject to negotiations with my wife. In the past years I mostly did two golf trips a year with a few daily trips in between. This year started great with a trip to Augusta, Kiawah Island and Pinehurst in January. And I have three more trips scheduled to London, Torino and Kitzbuehel.
My favourite golf destination is Scotland. I simply love links golf and I still have a long list of courses I want to see. I can't wait to go back there as soon as possible.
What are your 3 favorite courses in Europe? the UK? the US? 
Europe:
Morfontaine Golf Cub – very private and the best course in Continental Europe
Golf de Fontainebleau – a very nice Tom Simpson design on interesting land.
Golfclub Adamstal Franz Wittmann – the club is family-run. Fantastic hospitality and the best course in Austria
UK:
Royal County Down – my favourite course in the world!
St. Andrews – The Old Course – fantastic experience. A must play for every golfer
Royal Dornoch Golf Club – pretty remote in the Scottish highlands but the journey is highly rewarded with a superb golfcourse
US:
Pinehurst No. 2 – the Home of Golf in America. Pinehurst does everything right.
The Ocean Course at Kiawah Island – a tough course designed by Pete Dye but far more enjoyable and playable than I thought
Sand Hollow Golf Course – an underrated course in Utah. The back nine rival any course in the US in its beauty!
The next golf trip you are looking forward to?
I am currently planning a golf trip to London in May. I will meet a fellow golf nut who has played 93 of the top 100 golf courses in the world. He will finish his quest soon. And as a long time follower of his journey, it's really cool to join him on two of his last courses on this quest!
Join All Square and connect with Florian: www.allsquaregolf.com/golf-users/florian-pichler
Connect with like-minded golfers, follow the latest news in golf and discover more than 33,000 golf courses in 180 countries on www.allsquaregolf.com or download our mobile app on the App Store and on Google Play.
Contact us at info@allsquaregolf.com to book your next golf trip.