All Square ambassadors are key to our mission to connect golfers from all four corners of the globe. We caught up with golf nut and member of Royal Mid-Surrey Golf Club Nick Renton. Find out about his passion for the game and the courses he loves to play.
How did you get into golf?
I was a definite happy mistake to my parents and as a result, my Dad is quite a bit older so he was unable to play Tennis with me, or Football, so we picked a sport where we can walk together and talk together in the sun! I am so happy that he made me play because we have spent some of the most amazing times together just walking and playing so many different golf courses throughout England. We always try to out-do one another; he would say we are playing Walton Heath, and then the next weekend I would come to him and say that we are playing Wentworth!
You are a member at Royal Mid-Surrey Golf Club, can you tell us what makes your club so special?
Its the feeling that you are genuinely not in the heart of London! The club has such an amazing atmosphere, and apart from the odd day you are under the flight path for Heathrow Airport, you honestly feel like you are abroad! There is Kew Gardens next door to it, so in Summer we have Parrots and other birds flying across the holes! Add in the fact there are two courses, and I really think this is a fantastic place to be on a weekend.
I joined two clubs as a Junior and my Father asked me which one I wanted to join properly when I turned 18. The answer was Royal Mid-Surrey Golf Club easily because there was an excellent amount of Club Events and Junior Events.
What made you want to become an All Square ambassador? What do you like most about All Square?
The All Square Platform is something I was really thinking I needed to join and then all of a sudden, I found All Square! I want to support the community because I think it is a fantastic idea and want to promote! I do feel the presence is more of a Europe feel than in the London area which is absolutely fine but a good example of why I want to try and promote it even more!
Can you tell us about your most memorable golf experience?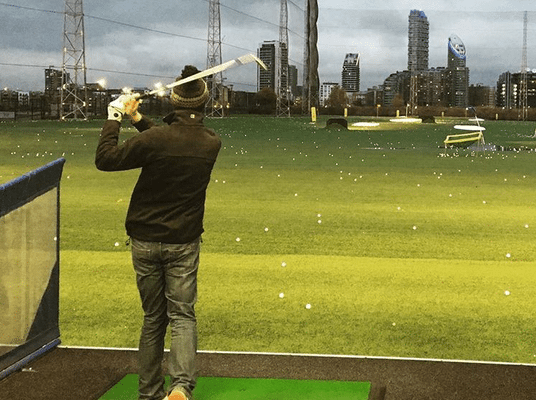 This is a tough one….There are a few for example, experience the Day at Muirfield with the lunch and the foursomes. It could be going to watch the Pros at Wentworth where my Dad was in complete awe! Or maybe something as simple as represent my club for the Juniors in Scotland and winning our matches! Golf is such an amazing sport in the sense that a simple putt could be the same as an autograph from Tiger Woods!
But I will give you an answer though, for me it was the week I spent as a scorer at Royal Birkdale for the 2008 Open Championship. I was a scorer on the 15th green and seeing Padraig Harrington battle it out with Greg Norman was absolutely amazing! The whole week was brilliant from the practice days to just sitting on the range and listening to what the Pros and caddies were talking about/trying to work on for their next round….Loved it all.
How often do you travel for golf every year and what is your favourite golf destination?
I travel at least once a year to play Golf Club Crans-sur-Sierre every August. That course is stunning. Now that I have a job and am earning, I am more keen to travel to Europe and play more golf of course but its just hard getting the days of work!
What are your 3 favorite courses in Europe? the UK? the US?
Europe: Real Club Valderrama (Played), Golf Club Crans-sur-Sierre (Played), Oitavos Dunes (Played)
UK: Royal Birkdale (Played), Kingsbarns Golf Links (Not Played), Royal Cinque Ports (Played)
US: Shinnecock Hills Golf Club (Not Played), Merion Golf Club (Not Played), NLGA (Not Played)
The next golf trip you are looking forward to?
Probably to either Sotogrande or back to the Swiss Alps!
Join All Square and connect with Nick: www.allsquaregolf.com/golf-users/nick-renton
Connect with like-minded golfers, follow the latest news in golf and discover more than 33,000 golf courses in 180 countries on www.allsquaregolf.com or download our mobile app on the App Store and on Google Play.
Contact us at info@allsquaregolf.com to book your next golf trip.